By Damián Martin / Service Manager – Alto Palermo Center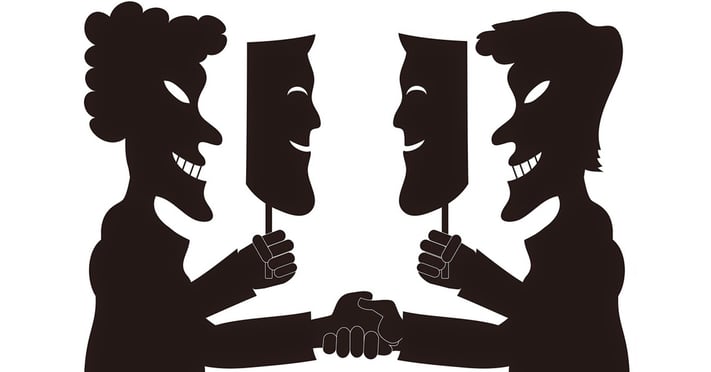 FALSE FRIENDS or FALSE COGNATES are those words which are spelt in the same (or similar) way in English and in Spanish, but in English they have a different meaning. For example, "Actual" in English does not mean "actual" as in Spanish. Actual in English refers to a real.
Los Falsos amigos son aquellas palabras que se escriben de la misma manera o similar en Inglés y en Español pero difieren en su significado. Por ejemplo "actual" en Inglés no significa "actual" como en español. Actual en inglés se refiere a real, efectivo.
False Cognates may cause some difficulty for students learning English as a second language, because students are led to identify the meaning of the word incorrectly due to translations.
For this reason, some teachers compile in their classes different lists of false friends as an aid for their students to remember and to use them properly.
Los Falsos Amigos pueden ser difíciles cuando se aprende un idioma ya que los alumnos identifican a la palabra incorrectamente por traducirla.
Por esta razón, los profesores enseñan una lista de Falsos Amigos que ayudan a los estudiantes a recordarlos y a emplearlos como corresponde.
List: / Lista:
an abstract: resumen (y no abstracto)
actual: real, efectivo (y no actual, que se dice current)
actually: en realidad (y no actualmente, que se dice nowadays, at present)
ailment: enfermedad leve, achaque (y no alimento, que se dice food)
apt: propenso (y no apto, que se dice qualified, able)
argument: discusión, pelea (y no argumento de un libro/una película, que se dice plot)
arena: estadio, plaza de toros (y no arena, que se dice sand)
to assist: ayudar (y no asistir a un lugar, que se dice to attend)
to attain: lograr, conseguir (y no atar, que se dice to tie)
attempt: intento (y no atentado, que se dice terrorist attack)
attendance: asistencia (y no atención, que se dice attention)
avocado: aguacate (y no abogado, que se dice lawyer)
balloon: globo (y no balón, que se dice ball)
bank: banco - la institución (y no banco de plaza, que se dice bench)
bark: ladrar o ladrido (y no barco, que se dice ship)
best: mejor (y no bestia, que se dice beast)
billion: mil millones (y no billón, que se dice trillion)
bomber: avión bombardero o persona que coloca bombas (y no bombero, que se dice fireman o firefighter)
brave: valiente (y no bravo, que se dice fierce)
camp: base militar o campamento (y no campo en general, que se dice field)
career: carrera profesional, ocupación luego del estudio (y no carrera referida al curso universitario, que se dice degree)
carpet: alfombra (y no carpeta, que se dice folder)
casual: fortuito, ocasional, informal, superficial (y no casual, que se dice accidental, chance)
casualty: víctima o herido (y no casualidad, que se dice coincidence)
collar: cuello de las prendas de vestir (y no collar, que se dice necklace)
to compromise: ceder, transigir, poner en peligro (y no compromiso, que se dice commitment, engagement o agreement)
confident: seguro de sí mismo (y no confidente, que se dice confidant)
contest: concurso (y no contestar, que se dice to answer)
costume: traje, disfraz (y no costumbre, que se dice custom, habit)
curse: maldición (y no curso, que se dice course)
to design: diseñar (y no designar, que se dice to appoint o to designate)
desperate: desesperado (y no despertar, que se dice to wake up)
dessert: postre (y no desierto, que se dice desert)

diversion: desviación (y no diversión, alegría, que se dice fun)
dramatic: drástico, espectacular
emergence: surgimiento, aparición (y no emergencia, que se dice emergency)
estate: propiedad, bien inmueble, patrimonio (y no estado, que se dice state)
eventual: definitivo o posible (y no eventual, que se dice casual, incidental)
eventually: finalmente, "tarde o temprano" (y no eventualmente que se dice by chance, possibly)
exit: salida (y no éxito, que se dice success)
fabric: tela (y no fábrica, que se dice factory)
familiar: conocido, familiar (adjetivo) (y no pariente, familiar (sustantivo), que se dice relative)
gentle: moderado, suave (y no gentil, que se dice gentile, kind)
hardly: apenas, difícilmente (y no duramente, que se dice strongly)
by heart: de memoria (y no de corazón, que se dice from one's heart)
idiom: modismo, locución (y no idioma, que se dice language)
to improve: mejorar (y no improvisar, que se dice to improvise)
intoxicated: ebrio (y no intoxicado, que se dice with food poisoning)
involve: involucrar (y no envolver, que se dice wrap)
jam: mermelada (y no jamón, que se dice ham)
large: grande (y no largo, que se dice long)
letter: letra del abecedario o carta (y no letra de una canción, que se dice lyrics)
library: biblioteca (y no librería, que se dice bookshop)
mascot: persona, animal u objeto que da buena suerte (y no mascota como animal doméstico, que se dice pet)
mayor: alcalde (y no mayor, que se dice bigger)
media: medios (y no media, que se dice sock)
misery: tristeza (y no miseria, que se dice poverty)
not at all: para nada, en lo absoluto (y no "no del todo", que se dice not quite)
notice: nota, anuncio (y no noticia, que se dice a piece of news)
ordinary: común (y no ordinario, que se dice vulgar)
parents: padres (y no parientes, que se dice relatives)
pendant: colgante de un collar (y no pendiente, que se dice earring)
petrol: gasolina o nafta (y no petróleo, que se dice oil, petroleum)
policy: política (y no policía, que se dice police)
politic: diplomático, cortés o prudente (y no político, que se dice politician)
to pretend: aparentar, fingir (y no pretender, que se dice to expect)
prize: premio (y no precio, que se dice price)
to probe: investigar (y no probar, que se dice to prove, taste o try)
prospect: posibilidad, perspectiva o posible cliente (y no prospecto, que se dice leaflet o pamphlet)
quite: bastante, totalmente (y no quitar, que se dice to remove o to put away)

to realize: darse cuenta (y no realizar, que se dice to make)
recipe: receta de cocina (y no recibo, que se dice receipt)
recollection: recuerdo (y no recolección, que se dice harvest o collection)
rude: maleducado, descortés (y no rudo, que se dice rough)
salad: ensalada (y no salado, que se dice salty)
salted: salado (y no salteado, que se dice skipped)
sensible: sensato (y no sensible, que se dice sensitive)
sensitive: sensible (y no sensitivo, que se dice related to the senses)
signature: firma (y no asignatura, que se dice subject)
soap: jabón (y no sopa, que se dice soup)
spade: pala (y no espada, que se dice sword)
stationery: artículos de papelería (y no estacionario, que se dice stationary)
to stay: quedarse (y no estar, que se dice to be)
to stir: revolver un líquido (y no estirar, que se dice to stretch)
stranger: desconocido o forastero (y no extranjero, que se dice foreigner)
success: éxito (y no suceso, que se dice event)
to support: apoyar (y no soportar, que se dice to put up with)
sympathetic: comprensivo (y no simpático, que se dice nice, likeable)
sympathy: compasión, comprensión, pésame (y no simpatía, que se dice friendliness, affection)
tax: impuesto (y no taxi, que se dice taxi)
tea: té (y no tía, que se dice aunt)
terrific: fenomenal, genial (y no terrorífico, que se dice terrifying)
to traduce: calumniar (y no traducir, que se dice to translate)
to translate: traducir (y no trasladarse, que se dice to move)
Ref: http://bit.ly/5f1kGj